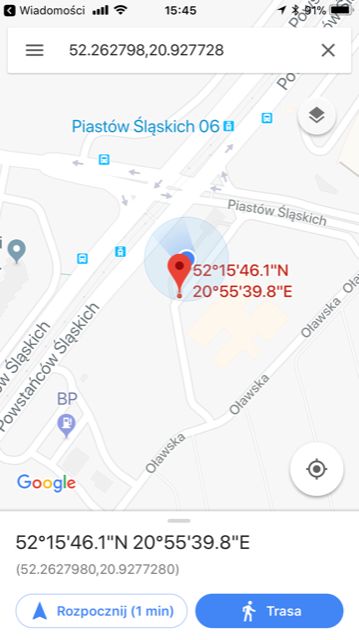 Lokalizator GPS posiada własne źródło zasilania o pojemności 11 000 mAh. Pozwala to na pracę urządzenia w długich przedziałach czasowych. Praktycznie okres pracy lokalizatora GPS zależy od realizowanego reżimu pracy. Najbardziej energochłonnym procesem jest śledzenie trasy obiektu z bardzo dużą dokładnością, która wymaga podawania pozycji co 10 sekund lub co 50 m przejechanej trasy. Przyjmując średni reżim pracy lokalizatora GPS ( ok. 10 odczytów na dobę ) pakiet zasilający umożliwi prace w okresie ok. 50 dni. Okres ten może ulec zmianie w zależności od pory roku.
Odczyt położenia obiektu telefonem komórkowym.
W celu określenia położenia obiektu należy wykonać standardowe połączenie z kartą sim zainstalowaną w lokalizatorze. Po usłyszeniu pierwszego "bipu" należy rozłączyć połączenie. W okresie ok. 2-3 sekundy otrzymamy wiadomość SMS z lokalizatora GPS.  SMS ten będzie zawierał informacje o położeniu obiektu na mapie GOOGLE.
Odczyt położenia obiektu na stronie WWW.
Położenie obiektu można także obserwować na stronie www. Ze strony możemy sterować lokalizatorem to znaczy ustawiać interwały czasowe przysyłania informacji o położeniu. Można skorzystać z możliwości ustawienia interwału niepodległościowego to znaczy wysłać komendę która spowoduje przysyłanie informacji o położeniu po przejechaniu np. 50 m lub innego dystansu. Korzystanie z przechwytywanie trasy obiektu musi mieć swoje uzasadnienie operacyjne ponieważ taka procedura jest energochłonna i znacznie skraca okres pracy lokalizatora GPS. Stosując lokalizator GPS należy mieć świadomość że jest on zbudowany z odbiornika sygnału GPS i z nadajnika GSM. Nadajniki te wykorzystują zakresy łączności w obszarach 900 MHz i 1800 MHz. Stosując zagłuszanie sygnału GPS spowodujemy paraliż lokalizatora GPS. Stosowanie zagłuszania kanału łączności lokalizatora GPS z operatorem GSM w pasmach 900 MHz i 1800 MHz spowodujemy także lokalizatora. Należy jednak pamiętać że lokalizatory obecnie są wyposażone w system nagrywania współrzędnych położenia. Informacje te mogą być wysłane do odbiorcy po zaistnieniu prawidłowej łączności GSM.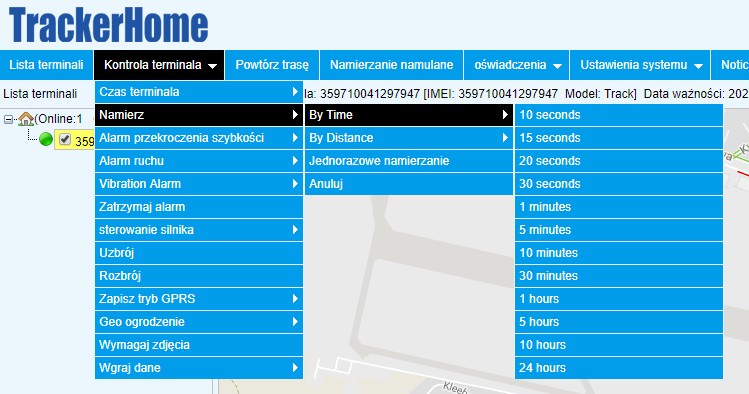 Na stronie można ustawić interwał czasowy odczytu położenia. Przy stosowaniu małych interwałów czasowych otrzymujemy bardziej dokładną trasę przemieszczania się obiektu. Wadą interwałów czasowych jest wysyłanie informacji o pozycji w sytuacji gdy obiekt jest zatrzymany. Wysyłanie informacji o pozycji będzie trwało do momentu wysłania komendy "Anuluj"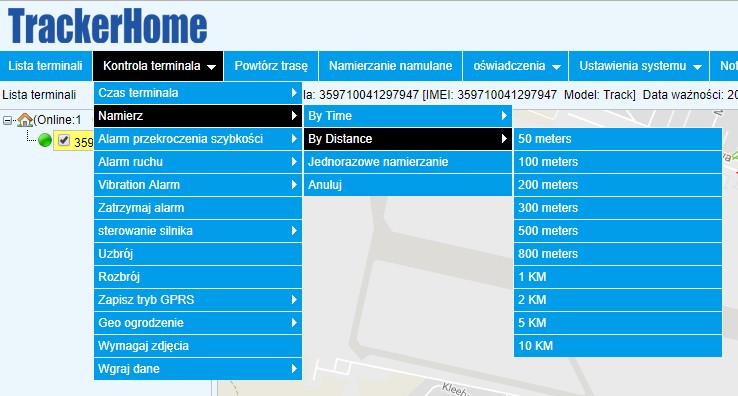 Innym rozwiązaniem jest śledzenie trasy przejazdu obiektu z wykorzystaniem interwału odległościowego. Zaletą tej metody jest to że w momencie gdy obiekt jest nieruchomy nie następuje wysyłanie informacji o położeniu.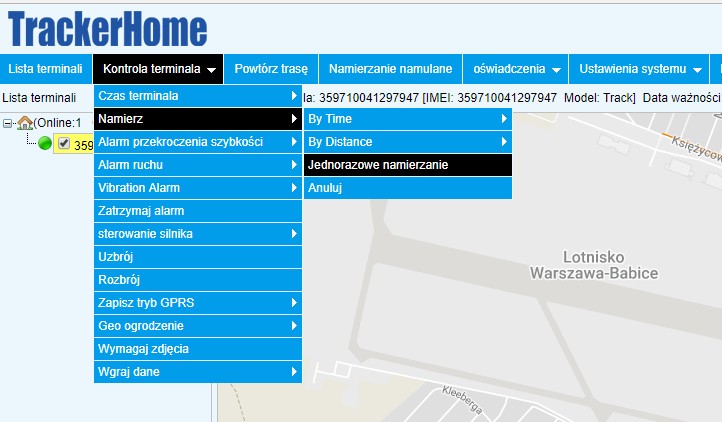 Można wysłać komendę z prośbą o podanie współrzędnych położenia w danym momencie. Identyczną funkcję realizujemy dzwoniąc telefonem komórkowym na numer karty zainstalowanej w lokalizatorze GPS i w odpowiedzi otrzymujemy położenie obiektu na mapie GOOGLE.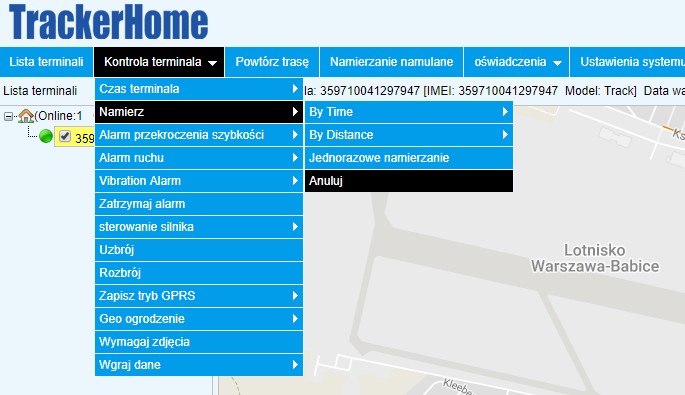 Anulowanie komendy śledzenia przerywa proces wysyłania informacji o chwilowym położeniu obiektu. Komenda ta jest szczególnie ważna w przypadku odczytu trasy z wykorzystaniem interwału czasowego.