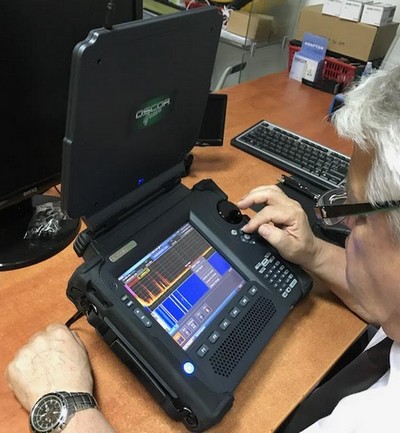 Odpowiednia baza sprzętowa jest podstawowym warunkiem skutecznego przeprowadzenie procesu wykrywania podsłuchu. Obecnie do podstawowych urządzeń w tym zakresie należy OSCOR Green. Urządzenie to produkowane jest przez REI USA. Charakterystyka :
Skanowanie 24 GHz trwa jedną sekundę z przechwyceniem 2,000,000 punktów danych

Posiada wbudowane oprogramowanie automatycznie przełączające system wewnętrznych anten do 24 GHz co oznacza możliwość wykonania pomiarów bez konieczności stosowania innych anten

Ekran dotykowy pozwala na przesuwanie, powiększanie, przeciąganie obrazu
Waga urządzenia to tylko 4,4 kg
Czas pracy baterii wynosi 2-3 godzin
Pozwala na szybkie zidentyfikowanie i  zlokalizowane transmisje sygnału RF i generowanie list przechwyconych sygnałów
Spektrogram pozwala na śledzenie przebiegu sygnału w funkcji czasu
Posiada demodulator sygnału: AM, FM, SSB, podnośnej i wideo (wyświetlane na ekranie)
Posiada zewnętrzną antenę kierunkową co pozwala na odnalezienie nadajnika podsłuchowego.
Posiada możliwość sprawdzenie sieci prądowej 230V pod kątem istnienia w niej mikrofonów podsłuchowych.
Generowanie listy sygnałów
OSCOR zbiera dane śledzonych szczytów, a następnie generuje listę przechwyconych sygnałów.
OSCOR  może odjąć  ślad referencyjny od śladu przeciągnięcia docelowego i utworzyć listę sygnałów unikatowych dla obszaru docelowego.



Powyżej prezentowane są zrzuty z ekranu Oscora wykonane w trakcie czynności związanych z wykrywaniem podsłuchu.
Wykrywanie podsłuchu - ręczny analizator SPECTRAN 5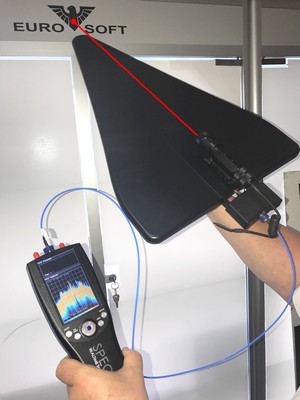 Świetnym uzupełnieniem analizatora OSCOR GREEN jest ręczny analizator widma Spektran 5 z kierunkową anteną typy HyperLOG 30100. Umożliwia ona wykrywanie wszystkich sygnałów transmisji radiowej w zakresie częstotliwości: 9kHz do 12GHz z uzyskiem 45 dB. Oscor Green posiada antenę kierunkową działającą w zakresie 1.5 GHz to 8 GHz z uzyskiem ok. 5 dB. Antena kierunkowa posiada wskaźnik laserowy pozwalający na bardzo dokładną lokalizacje nadajnika podsłuchowego. Wykrywacz podsłuchu w wersji mobilnej posiada możliwość zawężenia skanowanego przedziału częstotliwości co podwyższy selektywność odczytu a tym samym zwiększy dokładność wykrywania podsłuchu. Antena HyperLOG® jest standardowo wyposażona w specjalnie skonstruowaną,  obudowę typu radom. Obudowa została opracowana po intensywnych badaniach z wykorzystaniem najnowocześniejszej technologii komputerowej w taki sposób, że jej kształt, materiał i powłoka nie mają praktycznie żadnego wpływu na pomiary, nawet w przypadku deszczu lub innego rodzaju wilgoci na powierzchni. Ważnym czynnikiem dla Aaronii był rozwój HyperLOG® o najniższym z możliwych współczynnikiem tłumienia. Okazało się, to dużym wyzwaniem  dla  programistów zespołu Aaronii, szczególnie w zakresie wysokiej częstotliwości na poziomie GHz. Pierwsze pomiary testowe zdecydowanie przekroczyły wymagane normy ! Powstała antena która miała najlepszą odporność na  obciążenia  mechaniczne oraz na oddziaływaniem na środowiska bez utraty jakiegoś swojego działania. Dzięki temu wykrywanie podsłuchu z wykorzystaniem anteny kierunkowej HyperLOG 30100 wyposażonej w czterdziesto pięcio decybelowy wzmacniacz stało się bardzo skuteczne.
Wykrywanie podsłuchu - Detektor Złącz nieliniowych Lornet 24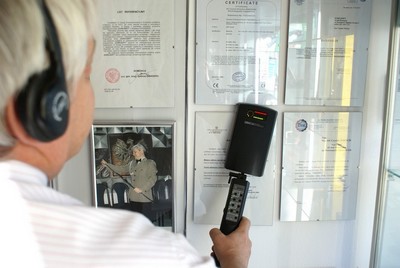 Nieodzownym elementem bazy sprzętowej jest Detektor Złącz Nieliniowych. Obecnie posługujemy się Detektorem Lornet 24. Wykrywanie podsłuchu z użyciem detektora złącz nieliniowych polega na naświetlaniu przestrzeni wiązką promieniowania elektromagnetycznego. W momencie gdy w obrębie tej wiązki znajdzie się złącze półprzewodnikowe typu np."np", "pn" lub "pnp"złącze to generuje harmoniczne fali naświetlającej. Harmoniczne te są przechwytywane przez detektor i sygnalizowane poprzez zapalarce się diody koloru czerwonego i żółtego. Wymienione typy złącz półprzewodnikowych występują w elementach elektronicznych takich jak dioda, tranzystor, układ scalony lub procesor. Reasumując dekokter sygnalizuje wykrycie elementów elektronicznych z których zbudowane są np. nadajniki podsłuchowe lub urządzenia pasywne takie jak rejestratory fonii, wizji.
Wykrywanie podsłuchu - Wykrywacz optyczny OPTIC-2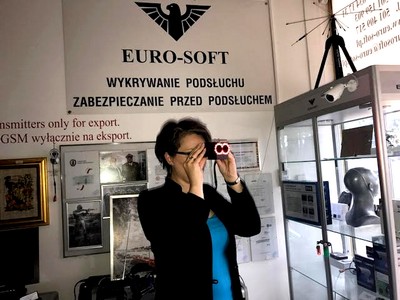 Przyrząd OPTIC-2 przeznaczony jest do wykrywania obiektywów kamer przewodowych i bezprzewodowych. Strumień światła generowany przez OPTIC-2 odbija się od zewnętrznej sfery soczewki obiektywu kamery. Zewnętrzna sfera soczewki jest w tym przepadku zwierciadłem wypukłym i światło po odbiciu ulega rozproszeniu. Część strumienia świetlnego dociera do wewnętrznej sfery soczewki, która w tym przypadku spełnia rolę zwierciadła wklęsłego. Generowany strumień świetlny po odbiciu od wewnętrznej sfery  soczewki obiektywu (zwierciadła wklęsłego) ogniskuje się w postaci mrugającego impulsu widzianego przez osobę obsługująca OPTIC-2. Wykrywacz kamer może pracować w  pięciu różnych cyklach generowanego strumienia świetlnego w dwóch kolorach. Dwa cykle to ciągły strumień w świetlny w kolorze czerwonym i zielonym. Następne dwa cykle to pulsujący strumień świetlny w kolorze czerwonym i zielonym. Piąty cykl to strumień świetlny naprzemienny pulsujący w kolorze czerwonym i zielonym.  Urządzenie pozwala on na lokalizację kamer z odległości do 50 m. Kąt widzenia OPTIC-2 wynosi 7,5 st. powiększenie obrazu 6,5x.

Wykrywanie podsłuchu w telefonach komórkowych UFED Touch.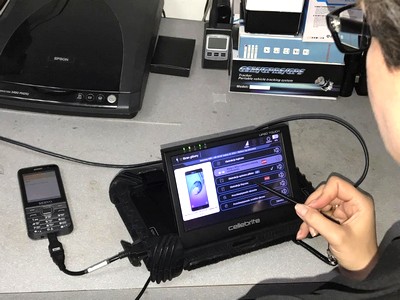 UFED Touch jest zaprojektowany przez Cellebrit Tel Awiw. Urządzenia umożliwia wykonywanie różnych typów ekstrakcji informacji zawartych w telefonach komórkowych. Ufed umożliwia np. odczyt skasowanych informacji SMS. Pozwala także na weryfikację stopnia zagrożenia aplikacjami zainstalowanymi w telefonie komórkowym. Wykrywanie podsłuchu w telefonie polega na pobraniu wszystkich aplikacji istniejących w badanym telefonie . W trakcie tego procesu ściągana jest aktualna baza danych aplikacji niebezpiecznych z Cellebrit Tel Awiw. Porównania tych dwóch zbiorów daje nam odpowiedz czy w badanym telefonie komórkowym jest zainstalowana aplikacja pozwalająca na prowadzenie podsłuchu toczącej się rozmowy telefonicznej, pozwalająca na odsłuch pomieszczenie w którym znajduje się zainfekowany telefon oraz na przechwytywanie wiadomości SMS przychodzących i wychodzących z danego telefonu.


Wykryte nadajniki podsłuchowe różnego typu.
Wykrywanie podsłuchu GSM oraz lokalizatorów GPS.
Wykrywanie podsłuchu GSM wykonywane jest zestawem pomiarowym OPT-100. Proces wykrywania polega na zablokowaniu łączności podsłuchu GSM z operatorem sieci telefonii komórkowej. Blokada ta powinna trwać tak długo aż parametry poprzedniego połączenia nie ulegną skasowaniu w pamięci podsłuchu GSM. Po usunięciu blokady połączenia moduł GSM automatycznie dokonuje logowania do swojej sieci. Proces ten trwa ok. 2 sekundy. Ponowne logowanie traktujemy jako emisje ujawniającą istnienie poszukiwanego podsłuchu GSM. Pomiar wykonywany jest bardzo czułym skanerem pracującym w zakresie do 25 GHz. Na ekranie skanera pojawia się w tym momencie charakterystyczne potrójne rozwinięcie barograficznego wskaźnika siły sygnału. Dodatkowo fakt ponownego logowania jest weryfikowany pod kątem otwarcia bramki połączenia telefonicznego. Ponieważ lokalizatory GPS zbudowane są z odbiornika sygnału GPS (urządzenie pasywne) i nadajnika GSM opisana powyżej procedura wykrywania podsłuchu GSM jest stosowana do wykrywania lokalizatorów GPS.
Euro-Soft
Wykrywanie podsłuchu.
Wpis do Rejestru Biegłych Sądowych.
Powstańców Śląskich 124 p.5
Warszawa
Mazowieckie
01-466
Polska
501-159-903