Wykrywanie podsłuchu wymaga zdefiniowania samego pojęcia podsłuchu. Podsłuch może być realizowany w czasie realnym i do tego celu wykorzystywane są nadajniki podsłuchowe pracujące na różnych częstotliwościach i w różnych modulacjach. Wykorzystywane są także różne metody prowadzenia transmisji. Tego typu podsłuch stosujemy w przypadku konieczności błyskawicznej reakcji na przechwyconą informacje. Drugim obszarem jest podsłuch prowadzony z wykorzystaniem różnego rodzaju nagrywarek takich jak magnetofony, dyktafony itp. W tym przypadku mamy do czynienia z magazynowaniem informacji w celu późniejszego odsłuchania. Metoda ta wymaga zastosowania systemów obróbki przechwyconej informacji w celu wyłuskania interesujących nas szczegółów. W trakcie wojny w byłej Jugosławii amerykanie wykonali satelitarny podsłuch obszaru ziemi. Po ok. 4 miesiącach pracy centrum komputerowego został wyselekcjonowany oficer przekazujący informacje o godzinie planowanych nalotów. Fakt ten powinien uświadomić nam skale zjawisk związanych z wykrywaniem nieautoryzowanych kanałów wycieku informacji.

Wykrywanie podsłuchu - metodą analizy harmonicznych

Wykrywanie podsłuchu tą metodą sprowadza si do wyodrbnienia sygnałów harmonicznych i określenia ich stopnia korelecji z sygnałem podstawowym. W tym przypadku można korzystać ze zjawiska sprzżń akustycznych, oczywiście należy dysponować odpowiednim sprztem.
Większość nadajników podsłuchowych jest przeznaczona do nadawania jednej częstotliwości, zwanej podstawową. Jednakże z powodu swych wymiarów, przeznaczenia i ceny nie posiadają one zazwyczaj dobrych filtrów częstotliwości harmonicznych. Tak więc jeden nadajnik będzie pojawiał się kilkakrotnie w widmie sygnałów. Np. nadajnik wysyłający sygnał o częstotliwości 110 MHz będzie wysyłał również sygnał 220, 330, 440, 550 MHz itd. Moc sygnału harmonicznych jest mniejsza niż sygnału podstawowego. Każda z harmonicznych odebrana w trybie automatycznym jest traktowana jako nowy sygnał zagrożenia.
Niektóre nadajniki wykorzystują powielacz częstotliwości. W związku z tym mogą pojawić się również podharmoniczne sygnału podstawowego. Za przykład może tu służyć dostępny na rynku mikrofon bezprzewodowy, który pracując na częstotliwości 155 MHz emituje również dość silny sygnał o częstotliwości 165, 175, 185 MHz.
Sygnały harmoniczne w zasadzie pomagają w wykryciu nadajnika podsłuchowego i ułatwiaią wykrywanie podsłuchu. Jeśli odebrano podejrzane sygnały na wielu częstotliwościach należy sprawdzić zależność pomiędzy nimi. Należy określić czy mamy do czynienia z harmonicznymi tego samego nadajnika czy też z wieloma nadajnikami. Po wyłączeniu znalezionego nadajnika trzeba wykonać ponowne kompletne skanowanie przestrzeni w celu wykluczenia możliwości pracy innego podsłuchu.
Wykrywanie podsłuchu w widmie rozproszonym.
Jedyną drogą do rozpoznania nadajnika szerokopasmowego za pomocą OSCOR'a jest przejście do trybu przemiatania (sweep) i przejrzenie widma sygnału, ustawiając odpowiednio granice pasma przeglądanego. Wykrycie sygnału szerokopasmowego nie musi oznaczać, że mamy do czynienia z podsłuchem. Jest wiele systemów satelitarnych i systemów zabezpieczenia łączności, które wykorzystują ten sposób emisji.
Podsłuch na częstotliwości skaczącej.
Inną metodą utrudnienia wykrywania podsłuchu jest zastosowanie zmiennej sekwencyjnie częstotliwości. (Frequency hopping). Nadajniki pracujące tą metodą pozostają na jednej częstotliwości przez bardzo krótki czas ( 5 do 100 milisekund ) a następnie zmieniają ją na inną, wybrana losowo. Takie nadajniki "skaczą" po wielu kanałach wewnątrz zdefiniowanego pasma. W trybie pracy automatycznej, ustalenie stopnia korelacji, który potwierdziłby, że sygnał jest podejrzany zabiera o wiele więcej czasu niż czas pozostawania nadajnika na tej częstotliwości.
Jeżeli w widmie częstotliwości pojawi się sygnał , o skokowo zmiennej częstotliwości, jest niezwykle trudno ustalić fizyczna lokalizacje nadajnika, ponieważ odbiornik OSCOR'a nie jest w stanie zablokować", szybko przesuwającego się sygnału.
Przypadkowe źródła promieniowania.
Wiele obiektów emituje promieniowanie w sposób nieprzewidziany, przypadkowy. Może to być przyczyną fałszywych odczytów wyników pomiarów. Większość z tych nadajników nadaje w małym zakresie widma i dopóki nadają z małą mocą, mogą być bardzo łatwo zlokalizowane. Do lokalizacji można użyć sondy lokacyjnej. Możliwe jest także wyłączenie takich obiektów będących w otoczeniu badanym i przekonać się czy emisja została przerwana. Niektóre przykłady źródeł przypadkowego promieniowania przedstawione są w poniższym zestawieniu.
Obiekt promieniujący Spodziewany sygnał - Prawdopodobieństwo wystąpienia świetlówki.
Szumy niskiej częstotliwości(AC VLF, antena ramowa, antena prętowa)
Umiarkowane.
Monitory komputerowe. Wiele silnych sygnałów harmonicznych pojawiających się na wejściu anteny ramowej lub prętowej.
Wysokie.
komputery dużo sygnałów harmonicznych w zakresie zależnym od częstotliwości zegara
Umiarkowane.
odbiorniki radiowe,urządzenia stereo
Sygnały małej mocy w tym samym paśmie co odbierany sygnał, również sygnał o częstotliwości generatora wewnętrznego i sygnały lustrzane
Umiarkowane.
Wyświetlacze LED Szumy niskiej częstotliwości rejestrowane przez antenę ramową
Niskie.
Wyświetlacze gazowe i fluorescencyjne
Szumy niskiej częstotliwości rejestrowane przez antenę ramową i prętową
Podsłuch spotkań w czasie realnym.

Stosunkowo łatwo jest wnieść do sali konferencyjnej urządzenie podsłuchowe nie narażając się na ryzyko wykrycia. Urządzenia podsłuchowe dostępne w handlu można schować do kieszeni, teczki lub portfela. OSCOR posiada unikalną właściwość pozwalającą monitorować salę spotkań w czasie rozmów lub obrad ze stanowiska oddalonego. Należy tutaj użyć mikrofonu zewnętrznego w stosunku do przyrządu jako źródła sygnału odniesienia.
Wykrywacz podsłuchu OSCOR należy umieścić w sąsiednim pokoju do sali obrad. Mikrofon powinien być umieszczony w badanym obszarze i podłączony do przyrządu za pomocą kabla mikrofonowego, który może być poprowadzony ponad ścianką działową, pod drzwiami lub przechodzić przez ścianę. W czasie spotkania przyrząd może po ustawieniu go w trybie pracy automatycznej pozostawać bez obsługi, wyniki można odczytać później z pamięci lub z wydruku. Lepiej jednak jeśli jest on w tym czasie pod opieką personelu ochrony.
Podczas monitorowania spotkań na bieżąco, z pewnością zależny Państwo na wykryciu źródła zagrożenia, tak szybko, jak to tylko jest możliwe.
Poniżej podajemy kilka sugestii, które umożliwią szybkie wykrycie niepożądanego nadajnika:
• Tryb automatycznego wykrywania sygnału powinien być ustawiony, albo na FASTKIM albo na Med. HUNT.
Jeżeli ktoś , z uczestników narady, posiada przy sobie urządzenie podsłuchowe, prawdopodobnie będzie ono dysponować relatywnie dożą mocą, umożliwiająca odbiór silnego sygnału, na oddalonym stanowisku podsłuchu ( lub nagrywania). Ustawienie OSCOR'a na wyższym poziomie zagrożenia progowego, ( FASTKIM lub Med. HUNT), przyspieszy proces poszukiwania. (z uwagi na bliskie położenie spodziewanego nadajnika).
• Wszystkie znajome sygnały należy umieścić w pamięci jako sygnały nieszkodliwe (przyjazne), aby po pierwsze, umożliwić OSCOR'owi, wystarczająco długą prace w trybie automatycznym, zapewniającą zakończenie przemiatania wszystkich wejść. Po drugie, w trybie pracy ręcznej, użytkownik powinien sprawdzić każdy sygnał, ozywając funkcji recall i zaetykietować ,wszystkie znane sygnały, jako przyjazne.
Wyszukiwanie gorących mikrofonów podsłuchowych
Wyszukiwanie ukrytych (gorących) mikrofonów podsłuchowych.

Sonda telefoniczna umożliwia symetryczne podłączenie się w celu sprawdzenia linii telefonicznej, linii do przesyłania danych i nieznanych przewodów.
Sprawdzanie pary nieznanych przewodów:
1. Połączyć sondę telefoniczną ( BAC - 5000) z przyrządem za pomocą przedłużacza.
2. Użyć gniazda EXT REF.
3. Wcisnąć klawisz EXT.
4. Wciskać klawisz F1 (etykieta MONITOR RECEVER) aż do ukazania się etykiety MONITOR/ REFENCE.
5. Podłączyć sondę BAC – 5000 , z badanymi przewodami za pomocą zacisków krokodylkowych. Należy oczywiście sprawdzić wszystkie możliwe pary przewodów. OSCOR zapewnia możliwość podłączenia od 2 do 8 par przewodów.
6. Wyregulować poziom głośności.
Przy położonej słuchawce nie powinien być słyszalny żaden dźwięk w linii. Wyjątkiem jest tu telefon cyfrowy.
W tym przypadku w linii jest obecny sygnał cyfrowy słyszalny jako szum. Po wyjęciu wtyczki z gniazdka ten szum powinien zaniknąć. Po ponownym wetknięciu wtyczki można sprawdzić telefon uderzając w niego delikatnie. Jeśli w takim przypadku słyszalny będzie charakterystyczny dźwięk należy podejrzewać, że nastąpiła ingerencja w aparat telefoniczny polegająca na wykonaniu obejścia wyłącznika słuchawki, zainstalowania dodatkowego mikrofonu itp. Niektóre typy telefonów są aktywne nawet po odłożeniu słuchawki. Te modele są niejako naturalnym zagrożeniem i powinny zostać wymienione.
Źródła podczerwieni i promieniowanie laserowe.
Istotne uwagi dotyczące źródeł podczerwieni i promieni laserowych .
Z powodu tego, że promienie podczerwone nie przechodzą przez ściany, nadajniki podczerwieni umieszczane są blisko okna lub na zewnątrz budynków. Połączone są one przewodowo z mikrofonem umieszczonym wewnątrz. Właśnie dlatego w czasie przeszukiwania poleca się umieszczenie OSCOR'a blisko okna. Zasłony i żaluzje powinny być zasłonięte dla upewnienia się, że nikt nie obserwuje pracy poszukiwawczej. Jeśli okno jest duże może okazać się niezbędne umieszczenie przyrządu w kilku miejscach.
Jeżeli nadajnik jest umieszczony w sprawdzanym pokoju część sygnału podczerwonego odbija się od okna. Jest to pewnego rodzaju ułatwienie w wykrywaniu nadajnika podczerwieni. Poleca się także użycie przyrządu na zewnątrz budynku w nocy (uniknie się wtedy zakłóceń ze strony promieni słonecznych) o odległości 7 - 10 m od okien. Wszystkie okna w badanych pomieszczeniach powinny być wtedy otwarte.
Uwaga: Przeszukiwanie w zakresie podczerwieni na zewnątrz wysokich budynków może okazać się niepraktyczne.
Wykrywanie podsłuchu w sieci elektrycznej i telefo
Wykrywanie podsłuchu w sieci elektrycznej.
Należy sprawdzić każde gniazdko sieciowe przy użyciu sondy bardzo niskiej częstotliwości ( AC VLF ). Nawet wewnątrz tego samego pokoju gniazdka te mogą być dołączone do innego obwodu elektrycznego i w związku z tym odseparowane od siebie i mogą nie transmitować sygnałów między sobą. Dotyczy to dużych budynków z transformatorowym oddzieleniem obwodów.
Do tych prac używa się kabla sieciowego przyrządu oraz sondy, która jest przystosowana do pracy przy napięciach do 250V. Przed testowaniem wybranej pary przewodów należy najpierw zmierzyć napięcie, które tam występuje Jeśli przekracza ono 250V nie należy wykonywać badań z użyciem OSCOR'a. Jeśli napięcie przekracza 120 V, należy przełączyć OSCOR'a na zasilanie 230 V, aby zapewnić ekstra zabezpieczenie przed zbyt wysokim napięciem.
Aby przeprowadzić sprawdzenie rożnych przewodów, pod katem przewodzenia prądu nośnego należy:
1. Upewnić się , stosując woltomierz, ze napięcie w przewodach nie przekracza 250 V.
2. Ustawić OSCOR'a w trybie przemiatania z wyświetlonym wejściem AC VLF.
3. Nacisnąć SHIFT a następnie EXPAND, aby uzyskać wyświetlenie maksymalnego zakresu ,okna częstotliwości.
4. Wizualnie sprawdzić wyświetlacz sygnałów. Dostroić się do interesującego sygnału i ocenić sygnały z punktu widzenia potencjalnego zagrożenia.
Podsłuch wykrywanie komputerowe.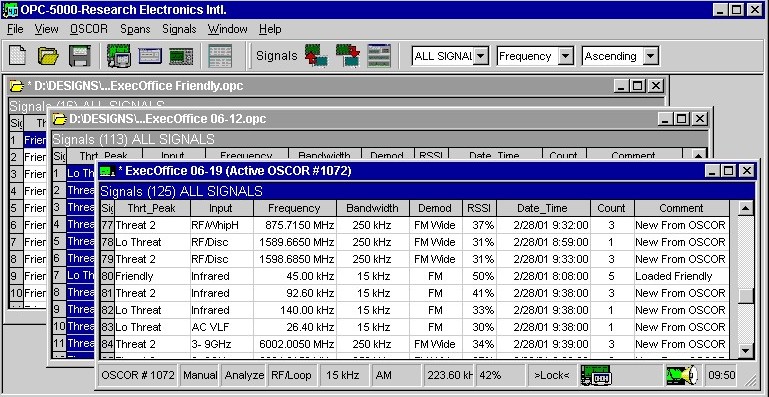 Oprogramowanie OPC-5000 do wykrywania podsłuchu z wykorzystaniem OSCORa-5000
Wykrywanie podsłuchu Szerokopasmowym Detektorem CP
Szerokopasmowy detektor energii jest po prostu elektromagnetycznym miernikiem pola.
Nie jest to urządzenie dostrajane na konkretne częstotliwości, ale może mieć zmieniające się wskazanie w szerokim zakresie częstotliwości.
Dla przykładu, CPM-700 (zaprojektowany i sprzedawany przez REI) ma możliwość odbioru sygnałów do 3 GHz, jednak odbiera on jednocześnie wszystkie sygnały w paśmie od 100 kHz do 3 GHz. Najmocniejszy w tym pasmie sygnał da w wyniku wskazanie dominujące.
Większość niedrogich urządzeń wykrywających podsłuchy należy do tej kategorii. Szerokopasmowe wykrywacze podsłuchu są łatwe w obsłudze, niedrogie i skuteczne w wykrywaniu znajdujących się w badanym otoczeniu urządzeń podsłuchowych średniej i dużej mocy. Jednak w środowisku wielkomiejskim, z dużą ilością silnych zakłóceń elektromagnetycznych, skuteczność tych urządzeń drastycznie spada ze względu na jednoczesny odbiór wielu innych sygnałów.
Ponadto większość niedrogich detektorów szerokopasmowych jest skuteczna tylko w bardzo wąskim paśmie widma i nie ma możliwości odbioru audio transmitowanego sygnału. CPM- 700 jest skuteczny w paśmie od 15 kHz do 3 GHz oraz wyposażony jest w szereg sond umożliwiających wykrywanie podsłuchu sygnału nośnego, podczerwieni i pola magnetycznego (pracujące magnetofony).
Zawiera on również wzmacniacz akustyczny pozwalający użytkownikowi na słuchanie sygnału oraz przeprowadzenie pewnych innych testów aparatu telefonicznego podobnych do tych, które można wykonywać za pomocą urządzenia OSCOR Za przyzwoity detektor szerokopasmowy trzeba zapłacić między 2.500 $ a 3.500$.
Wykrywanie podsłuchu odbiornikiem harmonicznych
Odbiornik harmoniczny.
Odbiornik harmoniczny zbliżony jest do analizatora widma, w tym zakresie, ze dokonuje on przemiatania pasma częstotliwości i jest w stanie stworzyć wydruk amplitudy sygnału, jako funkcji częstotliwości. Jednakże odbiornik harmoniczny funkcjonuje w oparciu o zasadę, ze duża cześć widma częstotliwości ( może to być nawet kilka Giga – Hertzów), może być elektronicznie " stłoczona" w wąskim widmie częstotliwości ( może to być np. 20 MHz). Tylko to wąskie widmo jest skanowane w poszukiwaniu sygnałów. To rozwiązanie działa bardzo dobrze, w przypadkach , gdy ściśnięte pasmo częstotliwości jest bardzo szerokie (nawet 100 MHz).
Zalety wykrywania podsłuchów tą metodą :
1. Prowadzi skanowanie bardzo szerokiego widma częstotliwości w bardzo szybkim tempie.
2. Ma wyższą czułość niż odbiornik szerokopasmowy, - co ważne w otoczeniu o słabych sygnałach, - ponieważ jest odbiornikiem dostrajanym.
3. Jest bardzo efektywny, wszędzie tam, gdzie istnieje możliwość łatwego dostępu do sprawdzanego otoczenia i umieszczenia go w bliskim sąsiedztwie wszystkich powierzchni, które mogą zawierać sygnały zagrożenia.
Wady wykrywania podsłuchu tą metodą:
1. Z uwagi na efekt "stłoczenia" sygnałów, istnieje niebezpieczeństwo, przykrycia sygnału zagrożenia przez sygnał normalny dla danego środowiska, co w konsekwencji całkowicie uniemożliwi wykrycie groźnego sygnału. Efekt stłoczenia ma tendencje do zwielokrotnienia sygnałów niegroźnych w danym otoczeniu. Dlatego w środowisku o dużym natężeniu sygnałów, odbiornik harmoniczny może wykonywać funkcje wykrywania, gorzej niż odbiornik szerokopasmowy. Prawdopodobieństwo wykrycia sygnału, podsłuchowego zależy w dużym stopniu, od lokalizacji, ilości i mocy sygnałów w środowisku zewnętrznym.
2. Występują trudności z precyzyjnym odczytem częstotliwości sygnału nadajnika podsłuchowego. Większość odbiorników harmonicznych nie zapewnia informacji na temat wejścia częstotliwości.
3. Odbiorniki harmoniczne, wyglądem przypominają odbiorniki skanujące; dlatego osoby, które je obsługują, używają ich raczej pośrodku pokoju, zamiast obchodzić cały pokój dookoła, aby dotrzeć jak najbliżej potencjalnego źródła niebezpiecznej transmisji.