Wykrywanie GPS wykonujemy unikalną metodą Breaking Force. Opiera się ona na wykorzystaniu pewnych właściwości każdego telefonu komórkowego lub modułu GSM. Procedura Breaking Force realizowana jest zestawem pomiarowym PTS-1000 umożliwiającym odczyt obwiedni sygnału cyfrowego. Metoda Breaking Force zapewnia stu procentową skuteczność pod warunkiem że moduł GSM lub lokalizator GPS jest gotowy do pracy. Oznacza to że moduł GSM jest zalogowany do systemu telefonii komórkowej i w każdej chwili może przyjąć polecenie o podanie swojej pozycji. Czynności te wykonują osoby posiadające Certyfikat Bezpieczeństwa Osobowego wystawiony zgodnie z wymogami ABW. Osoby te posiadają również aktualne szkolenia w zakresie dostępu do informacji niejawnych. Euro-Soft wykonuje ekspertyzy na zlecenie instytucji państwowych. 
Proces wykrywania GPS realizowany jest zestawem pomiarowym PTS-100.
Wykrywanie lokalizatorów GPS w samochodzie z wykorzystaniem ręcznych mierników częstotliwości, lub generatorów samowzbudnych ACECO jest skazane na niepowodzenie. Przyrządy te posiadają zbyt małą czułość i nie są w stanie dokonywać selektywnych pomiarów obwiedni sygnału cyfrowego. Używanie tego typu sprzętu do wykrywania lokalizatorów GPS i podsłuchu GSM w samochodzie jest dowodem na kompletną nieznajomość tematu. Wykrywanie podsłuchu oraz wykrywanie GPS powinno odbywać się w przestrzeni o niskim poziomie tła co w znacznym stopniu ułatwi prawidłowe pomiary sprawdzające.

Używanie miernika RAKSA do wykrywanie GPS jest nieporozumieniem, ponieważ sygnał zdradzający istnienie nieautoryzowanego modułu GSM (lokalizatora GPS) trwa ok. dwie sekundy. Tak krótki czas emisji nie pozwala na prawidłową interpretacje przechwyconego sygnału emisji ujawniającej.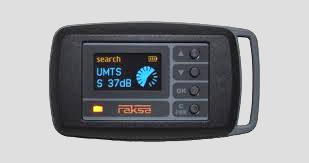 GPS musi być poprzedzone wymuszeniem emisji ujawniającej lokalizatora GPS. W przypadku pominięcia wymuszenia emisji ujawniającej badania z użyciem skanerów rejestrujących są bezzasadne. Podstawowym błędem tzw. konkurencji w trakcie wykrywanie GPS w samochodzie jest założenie że lokalizator GPS pracuje w momencie wykonywania pomiarów. Oczywiście takie założenie jest zbyt optymistyczne i w praktyce bardzo mało prawdopodobne. Wykrywanie GPS wykonywane w Euro-Soft zapewnia stu procentową pewność i skuteczność. Nasza metoda wykrywania GPS składa się z trzech niezależnych etapów. Pierwszy etap to sprzętowe wymuszenie emisji ujawniającej. Drugi etap to przechwycenie sygnału zgłoszeniowego lokalizatora GPS trwającego ok. 2 sekundy. Trzeci etap wykrywania GPS to weryfikacje przechwyconego sygnału pod kątem otwarcie bramki połączenia z BTS-em.
W każdym lokalizatorze GPS jest zainstalowana karta SIM. Może ona być źródłem dodatkowych informacji. Badania karty SIM wykonujemy systemem UFED produkowanym przz CELLEBRITE Tel Awiw.

Poniżej prezentowane są przykładowe miejsca w których są umieszczane lokalizatory GPS
 






Nasi Autoryzowani Przedstawiciele Regionalni w zakresie wykrywania GPS.
 Wykrywanie GPS Warszawa tel. 501-159-903
Wykrywanie GPS Warszawa tel. 575-093-045 (11.00-18.00)
Wykrywanie GPS Warszawa tel. 575-093-062 (11.00-18.00)
Wykrywanie GPS Warszawa tel. 577-975-263 (11.00-18.00)
Wykrywanie GPS Warszawa tel. 575-508-554 (11.00-18.00)