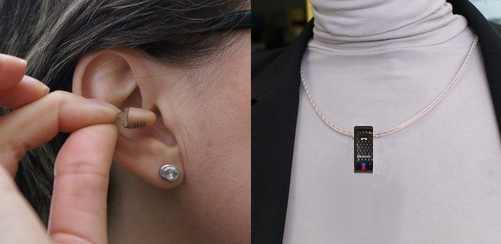 Mikro słuchawka stosowana jest do wymiany informacji w dyskretny sposób pomiędzy kilkoma osobami. . Często jest wykorzystywana w trakcie obserwacji "figuranta" na ulicy lub w innych miejscach publicznych. Do transmisji sygnału może być wykorzystywany system telefonii komórkowej lub dowolny inny radiotelefon. Mikro słuchawka składa się miniaturowego głośnika umieszczanego w przewodzie słuchowym ucha. Bezprzewodowe połączenia mikro słuchawki z urządzeniem transmitującym informacje (np. telefon komórkowy) zapewnia pętla indukcyjna generująca zmienne pole magnetyczne. W cewce indukcyjnej mikro słuchawki generowana jest siła elektromotoryczna co pozwala na wytworzenie przebiegów prądowych zasilających mikro głośnik zainstalowany w mikro słuchawce.
Obecnie mikro słuchawka jest często stosowana  na egzaminach maturalnych lub w trakcie sesji egzaminacyjnej na uczelniach. Zestawy tego typu są oferowane w różnych konfiguracjach i na różnym poziomie sprawności technicznej. 
Mikro słuchawka z bluetooth. Jest to zestaw składający się z mikro słuchawki oraz nadajniki bluetooth wyposażonego w pętle indukcyjną.Połączenie  bluetooth zapewnia możliwość wykorzystania każdego telefonu komórkowego. Efektywność zestawu zależy od poziomu indukcyjności cewki wykorzystanej w danym rozwiązaniu

H=(Z*J)/l 

gdzie: 
H - indukcyjność cewki
Z - liczba zwojów 
J - prąd płynący przez drut w cewce 
l - przekrój cewki 
Przy założeniu że prąd  płynący w bluetooth jest na tym samym poziomie to o jakości odsłuchu decydować będzie ilość zwojów ( Z )w pętli indukcyjne.
| | | |
| --- | --- | --- |
| |   | |
| W tym przypadku pętla indukcyjna wykonana jest z przewodu metodą łączenia poszczególnych żył. Maksymalna ilość zwojów w tym rozwiązaniu to jedynie ok. 8.  |   | Pętla indukcyjna wykonana jest z drutu nawojowego. Ilość zwojów jest praktycznie nieograniczona. W praktyce ilość zwojów wynosi ok. 20. |
Na rynku sprzedawane są pętle indukcyjne przewodowe, które należy połączyć bezpośrednio z wejściem słuchawkowym telefonu. Jakość odsłuchu na tych pętlach indukcyjnych zależy także od poziomu indukcyjności pętli czyli od ilości zwojów w pętli.